In our 2013-2014 season Shark Eat Muffin has opened our arms wide; I mean really wide. While no performances are set in stone at this time we are currently working on two very exciting new projects. Please keep checking back for updates or join our mailing list (bottom of page under Donate button) to be notified when a performance is opening near you.
New York:

Fantasies and Nightmares
48 hour intensive workshop will take place for this play on May 10-11th 2014 in New York City at the Made in NY Media Center in DUMBO.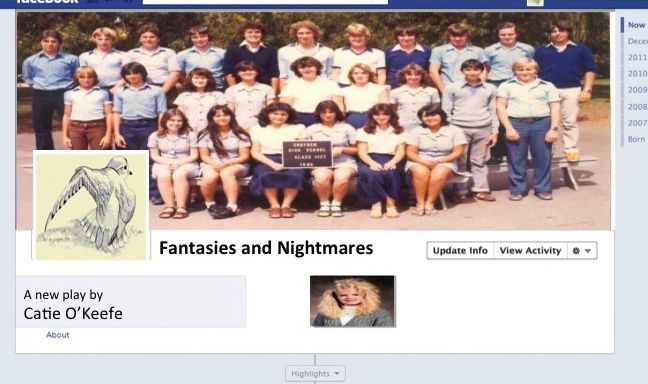 Ralph remembers his high school crush on Sally – but perhaps it's not all he recalls. From a dream he reignites feelings for her; feelings that soon take over every minute of his monotonous working day, consume every thought in his head and he cannot rest.  Convinced that if they were to meet again, they would have their moment, he sets up a Facebook event, a wine and cheese party to invite Sally over.  Provoked and cautioned in varying measure by co-worker Micky, Ralph embarks into dangerous territory.
However, Ralph's wife Deb is preoccupied, finding solace from her distant husband by caring for a bird who's broken his wing. But Deb is holding out hope  that the impending wine and cheese party will jump start things at home, especially during their son's recent absence.
In this hyper-reality play, Ralph descends through real, fantasy and nightmare scenarios as he loses control of what he hopes will be his outcome and what fate actually holds for him.
London: Shell Game
Bold, groundbreaking, new writing set in 1945, this play follows an unconventional story about love and sacrifice. Twins Jonathan and Ian share nothing in common except for looks and in October 1945 upon returning from the war are brought together for the first time by Jonathan's discovery that he will die before his pre-war fiancee returns to London. From that point onwards, Ian assumes Jonathan's life and carries through his brother's plan to marry the fiance; Siobhan. Meanwhile, Siobhan grows more and more worried about the man she loves who has changed so drastically. The couple struggle to clarify what's real vs. imaginary, love vs. fate, all while trying to pick up the pieces of their fragile lives destroyed by the war.
Using pre-recorded material and projections, this unsettling drama forces it's way into your head questioning everything you think you know about human nature.