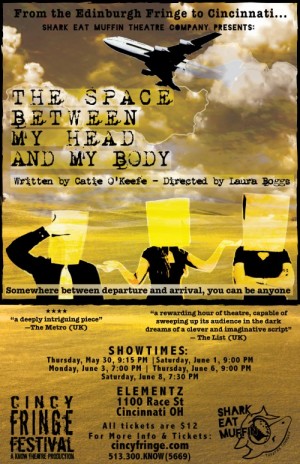 Shark Eat Muffin, celebrates their second performance this season with the much-anticipated US premier of Catie O'Keefe's play, The Space Between my Head and my Body .  This show will be part of the 2013 Cincinnati Fringe Festival line-up May 28-June 8th.
Venue:  Elementz – 1100 Race Street, Cincinnati 45202
Thursday, May 30 9:15 PM
Saturday, June 1 9:00 PM
Monday, June 3 7:00 PM
Thursday, June 6 9:00 PM
Saturday, June 8 7:30 PM
Ticketing Info: All Tickets are $12.  Call 513-300-KNOW (5669) or
High above the complications and conventional structures of civilization, characters make their way on various air-plane flights. Exploring their own identity, personalities, joys and greatest fears these individuals collide on paths that both intersect time and reality in a coincidental dance of life. Loosely based upon Oliver Sack's "The Man who Mistook his wife for a Hat", this play takes a deep and absurdist look into what it is to truly know oneself and those around you.
Featuring: Lauren Showen, Rhys Boatwright, Katey Blood, Mindy Heithaus and Dan Maloney
Directed by Laura Boggs
"[The Space Between My Head and My Body is] a rewarding hour of theatre, capable of sweeping up its audience in the dark dreams of a clever and imaginative script." — The List (UK)
"[The Space Between My Head and My Body is] a deeply intriguing piece" Four Stars – The Metro (UK)
Watch the Promo: