2014-2015 Season is a time for growth and exploration. We are expanding on a number of projects and hope to have two full productions released in Fall of 2015.

Portland, OR: Flight 212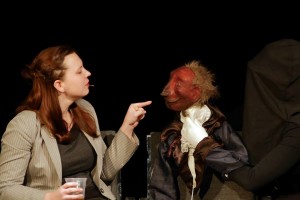 This show was specifically written for Puppeteer Anna Cosper, Catie O'Keefe and puppet Ben, to perform in Cleveland at Cleveland Public Theatre's 2014 Pandemonium fundraiser.  It then traveled to Cincinnati to be part of the South Asian Theatre Festival and on Feb. 13-14 2015 the show took another adventure to Portland, OR to be part of the Beady Little Eyes puppetry slam at Imago Theatre.
This play follows the short, sweet and intense relationship between a man and woman who meet on an airplane. Overhead projector slides accompany the play illustrated by Anna Cosper.
New York, NY:

Fantasies and Nightmares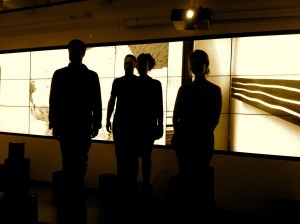 Following a 48 hour intensive workshop that took place on May 10-11th 2014 in New York City at the Made in NY Media Center in DUMBO we will host a week long follow up workshop in the Spring of 2015 that will culminate in a full Staged Reading of this play with a full production following in Fall 2015.

Ralph remembers his high school crush on Sally – but perhaps it's not all he recalls. From a dream he reignites feelings for her; feelings that soon take over every minute of his monotonous working day, consume every thought in his head and he cannot rest.  Convinced that if they were to meet again, they would have their moment, he sets up a Facebook event, a wine and cheese party to invite Sally over.  Provoked and cautioned in varying measure by co-worker Micky, Ralph embarks into dangerous territory.
However, Ralph's wife Deb is preoccupied, finding solace from her distant husband by caring for a bird who's broken his wing. But Deb is holding out hope  that the impending wine and cheese party will jump start things at home, especially during their son's recent absence.
In this hyper-reality play, Ralph descends through real, fantasy and nightmare scenarios as he loses control of what he hopes will be his outcome and what fate actually holds for him.
Cleveland, OH: Space

Co-production with Ohio City Theatre Project regarding… "Space".  Watch this one (this space) for more information coming soon. Production in Fall 2015 in Cleveland, OH.