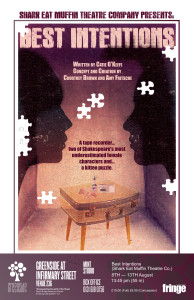 April – August 2016: Best Intentions
By Catie O'Keefe
Directed by Courtney Brown
This two woman play staring Amy Fritsche* and Jess Tanner was created in NE Ohio and had a performance Pittsburgh, PA and then it toured through the UK in London and as part of the 2016 Edinburgh Festival Fringe.
Emilia, a well to do Army wife, and Angelica, a live-in nanny, have never met, or have they?  Their situations seem extremely familiar to one another the more they begin to explore the moments leading up to their meeting. Both spirited, A- personality women, they find themselves stuck (both physically and mentally). As their individual stories creep out ,they find that they have more than a few secrets to share.  Racked by guilt, confusion and even suffering from disillusion, they explore the nature of their captivity as well as a shared personality flaw which seems to have landed them in this situation. Based upon significant, but often overlooked, female characters from Othello and Romeo and Juliet, these two women breathe new light and darkness into what they thought were their best intentions.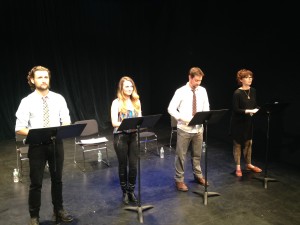 May 2014 – May 2015: Fantasies and Nightmares
By Catie O'Keefe
Workshops and staged readings
Made in New York Media Center and TBG Theatre
Produced by Sabrina Dridje
Ralph remembers his high school crush on Sally. But perhaps that's not all he recalls. Inspired by a dream, his feelings for her reignite. He finds her online and soon enough, she stretches into the four corners of his monotonous working days. She consumes his every thought and he cannot rest.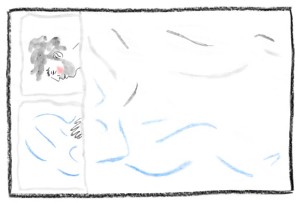 Adamant that their meeting again would prompt 'their moment', he plans a wine and cheese party. In her honor. The obligatory Facebook event is created. And as he is provoked and cautioned in varying measure, by co-worker Micky, Ralph drifts into dangerous territory.
Meanwhile, Ralph's wife Deb is eternally preoccupied, finding solace from her distant husband by caring for a bird with a broken wing. Deb is holding out hope that the impending soiree will jump start things at home, especially given their son's recent absence.
Ralph is jolted through fantasy and nightmare; shutting out reality in favor of what a new fate might hold for him. Meanwhile, those around him are grappling with their own lives and plotting escape. What happens when no space remains between the real and imagined? Where can you go and who is there left to blame?
S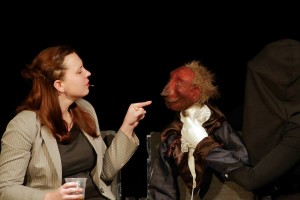 eptember 2014 – February 2015: Flight 212
By Catie O'Keefe
Puppeteer and illustrator: Anna Cosper
Cleveland Public Theatre Pandemonium, South Asian Theatre Festival and Beady Little Eyes Puppetry Slam at Imago Theatre
This traveling performance was written and performed by O'Keefe and Cosper as a collaboration of art forms that celebrated both drama and comedy in this sweet and touching short play about a woman and man who meet on an airplane.  One of them is a puppet and one of them is a figment of the others imagination, but they will fool you about who is who.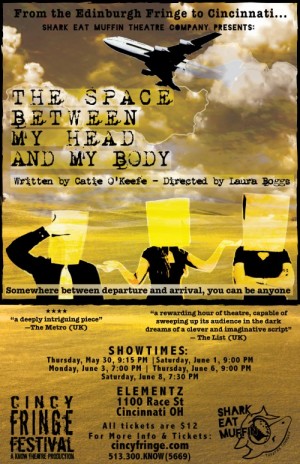 May – June 2013: The Space Between my Head and my Body
By Catie O'Keefe
Directed by Laura Boggs
Elementz Venue
Shark Eat Muffin, celebrated their second performance in their first season with the much-anticipated US premier of Catie O'Keefe's play, The Space Between my Head and my Body . This show was part of the 2013 Cincinnati Fringe Festival line-up May 28-June 8th.
High above the complications and conventional structures of civilization, characters make their way on various air-plane flights. Exploring their own identity, personalities, joys and greatest fears these individuals collide on paths that both intersect time and reality in a coincidental dance of life. Loosely based upon Oliver Sack's "The Man who Mistook his wife for a Hat", this play takes a deep and absurdest look into what it is to truly know oneself and those around you.
Featuring: Lauren Showen, Rhys Boatwright, Katey Blood, Mindy Heithaus and Dan Maloney
Directed by Laura Boggs
"O'Keefe's script is poetic, thoughtful and evocative" – Rick Pender, CityBeat
"[The Space Between My Head and My Body is] a rewarding hour of theatre, capable of sweeping up its audience in the dark dreams of a clever and imaginative script." — The List (UK)
"[The Space Between My Head and My Body is] a deeply intriguing piece" Four Stars – The Metro (UK)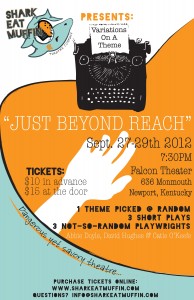 September 2012: "Variations on a Theme" – Just Beyond Reach
Three short plays by David Hughes, Abbie Doyle and Catie O'Keefe
Directed by Bet Stewart, Mandy Volpenhiem and Michael Heckmann
September 27-29th at 7:30pm at the Monmouth Theatre
After having a month to write a one act play, three playwrights (David Hughes, Abbie Doyle and Catie O'Keefe) crafted three very different but complimentary pieces.  The show opened to sold out performances at the Monmouth Theatre in Newport. This opportunity gave raise to a playwright driven performance where the goal was to promote new work, workshop it and perform it.  Success!  We couldn't have had a better opening performance for our new company and we're already planning for Variations on a Theme 2013.
About the playwrights:
Abbie Doyle, It's a Real Shame is a senior at McAuley High School and this is her first play performed.  Her interest in playwriting began when she took an educational course from New Edgecliff Theatre, taught by Catie O'Keefe, this past November.  When not scrambling to meet deadlines, Abbie is usually enforcing the stereotype of a teenage blogger or hanging out with her friends.  Abbie has seen and owns all nine seasons of Seinfeld, is perpetually hungry, and wishes her dog could be here today to be wonderfully overwhelmed by all the smells, noises, and people.
David H. Hughes, Acapulco, David has a B.A. in Theatre Arts from the University of Cincinnati.  He studied acting at the Herbert Berghof Studio in New York.  He played John in Clear Stage's production of David Mamet's "Oleanna." For Wyoming Players he directed Diana Son's "Stop Kiss" and most recently James McLure's "Laundry and Bourbon" and "Lone Star." He is extremely grateful to Shark Eat Muffin for this rare opportunity.
Catie O'Keefe, The Noise Maker, Catie holds a BA in Theatre from Lewis & Clark College and a Masters in Playwriting from Royal Holloway University of London, after which, she studied for two years at the Royal Court Theatre Young Writers Program in London.  Her work has been performed in London, Scotland, Holland, New York, Oregon, Colorado, Louisiana and Ohio. She is currently the Playwright-in-Residence at New Edgecliff Theatre and the Artistic Director for Shark Eat Muffin. She teaches playwriting workshops in the greater Cincinnati area and is a recipient of the Peggy Ramsay Grant working in the US and abroad.